Do you think soaps are drying? Then you use wrong soap bars. 🙂 Try handcrafted or even homemade soaps that contain moisturizing glycerin and all the natural benefits of oils and butters.  
Hot process, cold process, melt & pour
Cold process is used for soaps with nourishing ingredients (oils and butters), because those retain almost all their natural characteristics. It's quicker than hot process, but soaps need to be cured for a month or two (at least) and even more if you want milder soaps. Castille soaps, made of mostly olive oil, can be cured even for a year!
Cold process is what many soapmakers swear by, because all you need to do is join lye and fats (saponification), blend with stick blender until trace is reached and pour in mold. Then wait for 36-48 hours, take soaps out of molds and cut them into final shapes. Cure for extended periods of time (usually 8 weeks) and test pH level. Also make sure soaps are stored in dry places with enough fresh air and turn them around every two or three days. During curing pH levels in soaps will lower and liquids will evaporate.
Hot process takes longer to make, but soaps can be used immediately after they cool down. Soap reaches gel phase before it's poured in molds and in cold process it reaches gel phase after it's poured (during curing). Hot process is appropriate for advanced soapmakers, because you need to carefully manage heating and blending of soap batter. First mix fats and lye like in cold process and when it reaches trace, cook until lye completely reacts with fats. Many recommend testing with tongue (if lye didn't react, it feels like touching 9V battery). Although this test sounds dangerous, it's completely safe (just don't swallow any soap 🙂 ).
Melt & pour is the easiest method of 'soapmaking'. It can be done by anyone, because you only melt a pre-made base and decorate/customize it to your wishes. Saponification that creates soap has already happened and soaps can be used right away (even the soap base itself).
Do you know?

Soaps have chemical structure of salts.
Lye
Lye (also known as sodium hydroxide-NaOH) is highly caustic and should be handled with care. First it is combined with liquid and than added to oils and butters. During saponification these ingredients will produce solid soap. For liquid soaps use potassium hydroxide-KOH.
Lye soaps have the reputation of being harsh to skin and many consumers like to avoid them. But the fact is that soaps can not be made without lye. In commercial products it's listed as sodium hydroxide or even as  sodium olivate  for olive oil and  sodium cocoate  for coconut oil. These are simply international names in INCI nomenclature. Since all soaps are made with lye, there is no reason to avoid using lye soaps. Although some 'soapmakers' claim to make soaps without lye, but they only use melt & pour soap bases where lye and fats have already reacted. You can also find some interesting links on the bottom about safety of lye.
But there are some products for washing skin without lye and they are called detergents. More about them below.
IS WORKING WITH LYE SAFE?
Some instructions for working with lye suggest that working with this chemical is extremely dangerous and that even small lack of attention can cause a huge disaster. Don't worry, if you work according to safety rules, nothing can happen. It's important to know that lye in granules or powder differ and that granules are much easier and safer to work with, so try to get those. Lye in granules should be mixed with cold liquid, because it heats itself (it's exothermic ) once you combine it. Measure lye (even two or three times to make sure you get the right number on the scale, but don't worry about decimals; if you need 65,4g you can use 66g, especially if you're making a larger batch) and add liquid to it. Pour it in slowly and mix with wooden or glass stick (no metal!). It's important to work slowly as lye can splash because of heating. Wait until lye cools down; it will be very hot, so it might be best to mix it outside where fumes will go away (don't inhale them) and mixture will cool faster. Once it's cooled down, add it slowly to melted fats. Some recommend that both phases should be at maximum 5 degrees Celsius difference, but personally I've tried making soap without measuring temperature and the final result was still great.
If lye does touch our skin, it feels slippery, because oils on our skin saponificate into 'soap'. Clean with large amounts of water and consult with doctor, if needed. Especially for beginners it's important to use rubber gloves, glasses and clothes that cover majority of arm length and neck. Some like to work without these protection equipment, but it's better to be safe than sorry. 🙂
Lye shouldn't get in contact with metals, for example aluminum, because it's corrosive and produces flammable gas. It can also be corrosive to glass but only mildly (it's still safe to work with glass equipment when making soap).
 Liquids in soaps
Liquids are key ingredients in soapmaking. Lye has to be mixed with some type of liquid in order to react with oils and butters. For basic recipes choose distilled water, but for more advanced ones try using teas, infusions, fruit juices, aloe vera juice and other.
Liquid content depends on soapmaker's wishes and season. If you want your soaps to be usable quickly, then use less liquid. Soaps, made in April-September, should contain less liquid and more if it's October-May. When using less liquid, store and cure soaps in closed room and when you use more, make sure there is enough fresh air in the room. When soaps cure for extended periods of time, for example a year or two, use more liquid, so that in the meantime soaps don't crack.
Superfatting
Superfatting is a term used to describe the percentage of excess oils/butters in recipe (more than lye can react with). This means that soaps with 0% of excess oils/butters are perfectly safe for use, but things can get complicated quite easily. If you use too much lye (even a gram or two more than adviced), your soap will be too caustic and therefore not safe for use. Lye heavy soaps can be irritating and drying for skin and that's the reason why homemade soaps used to be known as harsh. In reality it was because crafters didn't have any tools to test its pH, which is very important for safety. More about pH below. Superfatting is also important because soaps with too much oils/butters are greasy, soft and useless. It will also be more prone to rancidity. Superfatting at 5-8% is believed to be the best since such soaps stay solid and retain nourishing properties of used oils and butters. On the other hand superfatting levels 0-4% can be too harsh if some lye stays untouched by oils/butters. This can happen if you don't blend it long enough with stick blender. For calculating how much lye you need, use soap calculators like this one from Brambleberry: link
Interesting fact

Coconut oil is very cleansing and removes all oils from skin. In 100% coconut oil soaps use 20% superfatting. 
 Saponification & ph levels
Saponification is the reaction between oils/butters and lye.
Triglycerides are fats (oils and butter) we use and alkali is lye (sodium hydroxide (NaOH)).
Finished soap consists of saponified oils, water that evaporates during curing and glycerin that is retained contrary to commercial soaps where it's removed. Finished soaps don't contain any lye, because excess lye means recipe isn't good. This is why it's so important to measure in grams and use soap calculators.
When this process is finished we end up with soap and glycerin, which is removed from commercial soaps. This makes them more drying and glycerin is then added to skin moisturizers so consumers need to buy both of them. This is also the reason why homemade/craft soaps are much more moisturizing and less drying as store bought ones. Even if you check the list of ingredients, you can notice a huge difference, since commercial bars have added ingredients for extended shelf life, better 'water resistance' (if it falls in water, it won't immediately melt as opposed to homemade/craft soaps that are more likely to) etc. Homemade soaps are also more alkali-their pH level is 8-10. This haze about pH neutral soaps is a marketing trick since it implies that it's benefitial for our skin (pH 7 is neutral and human skin has pH 4,5-7). Commercial 'soaps' are really detergents that have lower pH levels than homemade soaps. They achieve this by using synthetic surfactants that make harder 'soap' bars, long shelf life and increased lather. All these characteristic are very popular among customers, but aren't really that benefitial to skin. More lather for example increases the risk of dry skin and detergents generally contribute to damaged and more sensitive skin. They can also damage a part of epidermis (stratum corneum) that serves as a protecting barrier and when this layers is dried, sensitive skin is more likely to happen. Probably the biggest advantage of detergents is it's ability so soften water. Water we use daily is full of minerals like calcium (Ca), magnesium (Mg), iron (Fe) and manganese (Mn), but these make natural soaps more difficult to work. Cleaning powers are reduced since mineral salts react with soap and form an insoluble film. In case of washing clothes, soap is also more difficult to be rinsed, because it holds onto fabrics and makes them feel stiff.
detergents & surfactants
Surfactants used in detergents were invented during World war II when there wasn't enough animal and vegetable fat/oils for soapmaking. Detergents were also easier to work with since soft water is difficult to find (rain) and isn't safe for drinking because of lack of minerals. Today surfactants are made of petrochemicals (from petroleum) and/or oleochemicals (from fats and oils). Surfactants make the process of cleaning easier, because skin/clothes can be washed with lower temperature since they break down the connection between water and oils/dirt.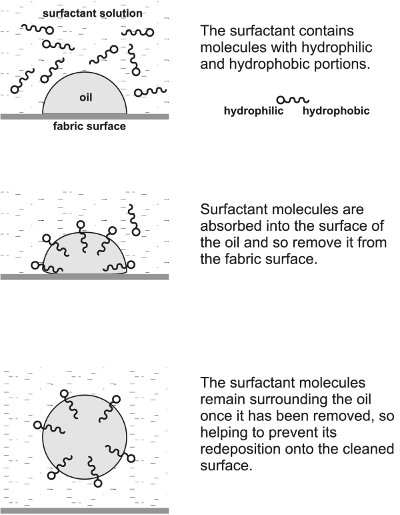 Surfactants are massively used because they are cheaper than soap. Detergents are basically lathery water with petroleum byproducts that have added ingredients for moisturizing effect which could be achieved by using actual oils and butters. Production of detergents is also faster than soapmaking. Cold process soaps need to cure for a month or two and hot process is more difficult because of heating that destroys almost all healing properties of oils and butters.
Shampoos and shower gels usually contain amphoterics surfactants that have following benefits:
reduce skin irritation
have foaming properties and stabilize foam
compatible with hard water
build viscosity
condition hair
work in wide pH range
biodegradability
 pH levels:
It's also important to know how soaps work. When we wash slightly acidic skin with neutral water and alkaline soap, skin's own oils are washed off. This means that the more alkaline soaps are more effective when cleaning oils, dirt and germs/bacteria. After cleaning skin begins establishing its own environment and in 20 minutes 1/3 of it is already the same as before washing. In 2-3 hours the skin environment is completely repaired. This acid mantle protects us from bacteria, but can also be damaged with excess use of detergents. There are also some exceptions with medical conditions that need longer to repair their acid mantle.
Soaps with low quality can have free alkali (lye) that didn't react with fats and are therefore harsh and drying. Such soaps have longer shelf life and increased lather, but aren't suitable for sensitive skin because of too high pH (more than 10). Free alkali will react with your skin's oils and saponify them into 'soap'. Some believe that high coconut oil content (majority in the recipe) along with artificial color and fragrance can result in drying soaps.
How to measure pH in soaps?
tongue test: touch soap batter (hot process) with tongue and if it pinches, there is still too much lye
litmus paper indicators: wet solid soap with a few drops of distilled water and lay litmus paper over. Wait a few seconds and check the scale. It should be 7-10, if it's more, it might not be usable even after long curing.
phenolphthalein: apply this liquid to cured soaps and if it turns into light pink or is clear, it's safe to use. This isn't an exact measuring of pH level, but it's still useful.
try on hands: if you followed instructions very carefully and measured correctly, your soap is probably safe to use. Try washing hands with it and check what you created. 🙂
Did you like these basics of soapmaking? Comment below and share with others! 🙂
SOURCES & INTERESTING LINKS:
Links with ❗ are very useful sources, so read them if you want to know more. 🙂
(Visited 1.317 times, 1 visits today)